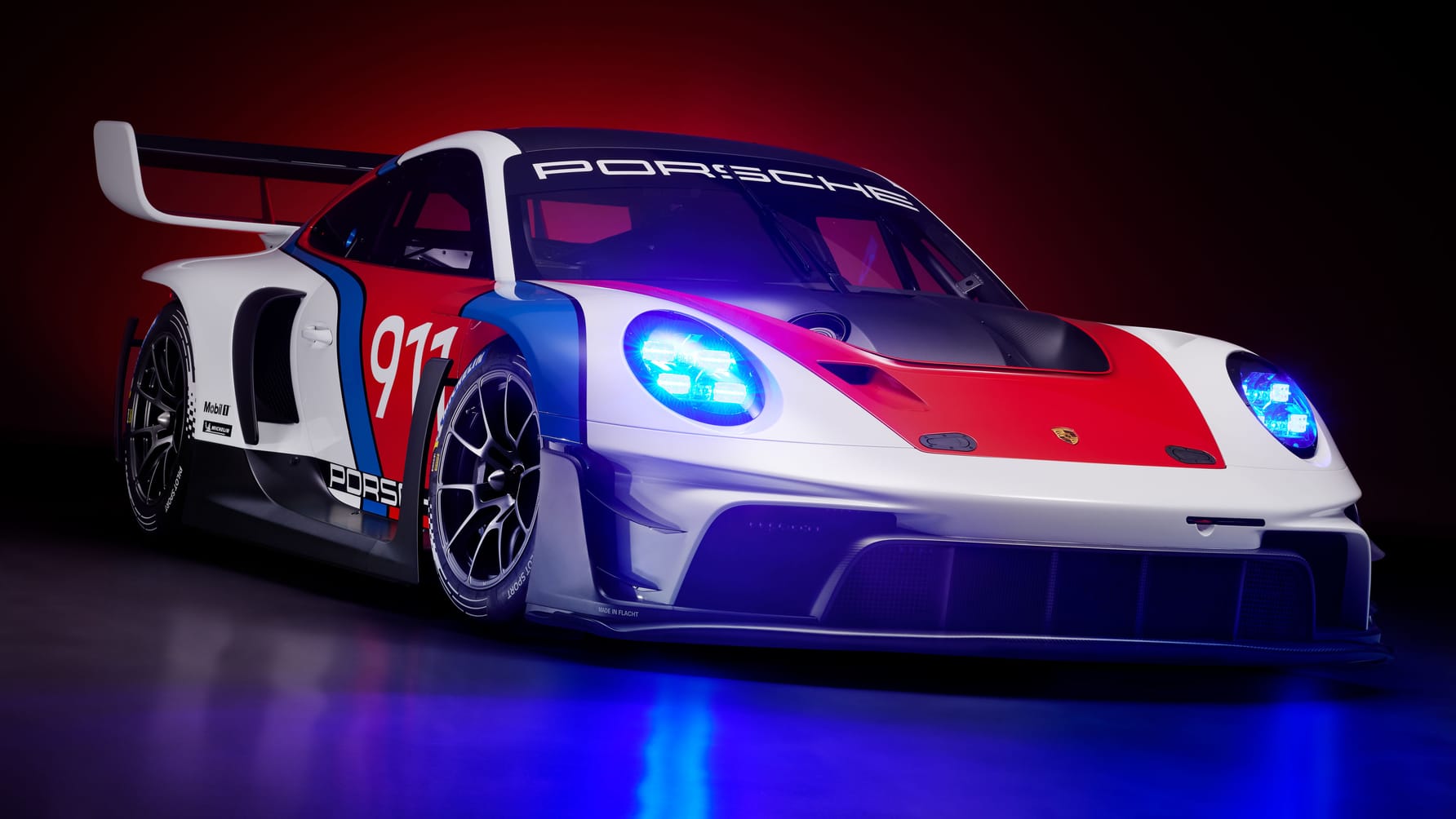 The largest Porsche event in the world, the Porsche Motorsport Reunion, began yesterday. It's the second day, and they've already unveiled a massive highlight: the Porsche 911 GT3 R race car. It's a 992 model with a completely new design. Keep reading for the first details.
One of the distinctive features of this unique collector's item, limited to 77 units, is the boldly designed body. The Porsche 911 GT3 R race car combines the powerful presence of a high-performance racing car with modern design elements. At the same time, it pays homage to the motorsport history of the sports car manufacturer without drifting into a retro look. Essential performance factors of the original GT3 model, such as air resistance and aerodynamic downforce, remain largely unchanged. As a purebred racing car, the shape of the 911 GT3 R race car continues to follow function, albeit in an extremely emotional and attractive manner.
The 911 GT3 R race car will take its place as the logical successor to the modern Porsche 935. While the 935 was technically based on the production-based 911 GT2 RS Clubsport, the 911 GT3 R race car uses the current 911 GT3 R from the 992 generation as its foundation. Underneath the extensively redesigned carbon skin lies a thoroughbred racing car. The limited model has gained some width and appears visually lengthened, all while sitting very low on beautifully designed wheels. This gives it perfect proportions and makes it even more spectacular.
The removal of regulatory restrictions benefits particularly the 4.2-liter six-cylinder boxer engine of the 911 GT3 R, which revs up to 9,400 rpm, achieving a peak power output of up to 456 kW (620 hp). This equates to up to 148 hp per liter of displacement, likely setting a record for a naturally aspirated engine in a GT race car. This makes it significantly more powerful than the original engine, which, depending on the BoP rating, could produce up to 416 kW (565 hp) in the 911 GT3 R. The water-cooled four-valve engine with direct fuel injection is designed to run on E25 fuels, including bio-ethanol fuels, reFuel, and regeneratively produced E-fuels, enabling nearly CO2-neutral operation. With their lower tendency to knock, they pave the way for earlier ignition timing and increased compression in the six combustion chambers. Specially developed pistons and camshafts for the GT3 R racing engine contribute to enhanced performance, especially when running on E25 fuels. However, the engine can also operate on conventional fuels.
All in all, this stunning specimen is as surprising as the 935 that came out in 2019. It's a Porsche through and through, and that's what makes it exceptional.